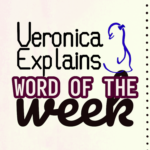 It's retro week on Veronica Explains! Just kidding- we're always celebrating where we came from here.
Word of the Week returns after a short hiatus with a new episode that was not recorded in front of a live YouTube audience. Instead, I recorded an episode with one of my oldest friends- Bryce of Midnight Notion. You can find his music on YouTube at Midnight Notion, and you should.
Anyway, enjoy this nostalgic look back at guestbooks.